Update (940ET): As expected, the Democrat-controlled House has voted through Biden's Build Back Better spending plan in a 220 to 213 vote with every Republican voting against the Bill, and one Democrat, Rep. Jared Golden, voted "no" over the SALT cap provision. It will now be sent to the Senate where its fate remains uncertain and will be determined by moderate Democrats Joe Manchin (WV) and Kyrsten Sinema (AZ).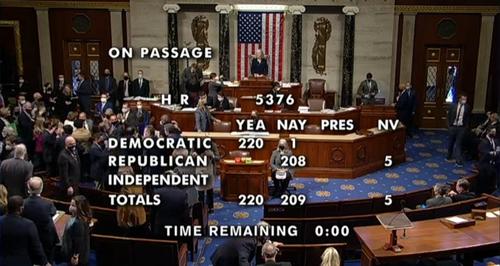 As Newsquawk notes, the Senate will take its turn to vote on the bill and all 50 Democratic senators are needed to vote for the bill in order for it to pass. The two senators in question are the moderate Senators Manchin and Sinema; a recent CNN report suggested that Democrats were far more reassured that Sinema would back the Build Back Better bill although they are still uncertain about Manchin.
Note, Senators also have the ability to change parts of the bill. Manchin has previously expressed concerns with the "Paid Leave" component of the bill and believes it should be passed in a bipartisan effort in a separate bill. The SALT cap may also face some concern as it is expected to be one of the most expensive parts in the bill. Manchin has also raised concerns that 10 years of funding should pay for 10 years of services, while Child Care aid only lasts for six years, and cheaper premiums on the Affordable Health Care Act only last for five years. If the Senate were to make adjustments, the bill would then have to be sent back to the House.
Here are some recent comments from Moderates:
Manchin said Thursday 18th November he has not decided on whether to vote to proceed to the Build Back Better Bill, says the House passage of the bill would not influence his thinking.
Sinema, in an interview with WaPo, noted Biden's spending plan differs from the blueprint that Biden had worked out with centrists weeks earlier, but she did not say what, if anything, she might change. She also reiterated she is worried about inflation and that new tax hikes could harm businesses still struggling in wake of the pandemic, adding she doesn't think the solution is always more federal spending.
* * *
Update (0715ET): House Minority Leader Kevin McCarthy delayed the passage of President Joe Biden's social spending package after embarking on an hours-long floor speech that lambasted the bill and Democrats for an array of issues.
The speech began as the House concluded debate on the sweeping budget Thursday night and proceeded to so-called "magic minutes," which allow three members – the speaker, majority leader and minority leader – to speak for unlimited amounts of time.
McCarthy ended his speech at 5:11 a.m. Friday – eight hours and 33 minutes later.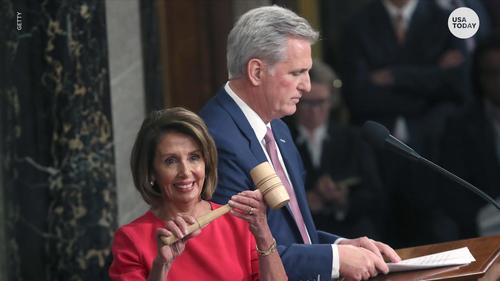 "It's okay. I'll be here a long time," McCarthy responded over two hours in, looking at Democrats.

"I think I'm upsetting other people on the other side of the aisle by telling them what's in the bill. They just yelled at me that they're leaving."
Speaker Pelosi was indeed none too happy about McCarthy's record-breaking address, posting a statement in real-time during his speech, titled "McCarthy Needs a Reality Check" called the speech a "temper tantrum" full of "unhinged claims." It included a list of rebuttals to McCarthy.
"House Democrats are preparing to pass landmark legislation to lower costs, fight inflation and make big corporations and the wealthiest pay their fair share," the statement said.

"But McCarthy is welcome to keep getting facts wrong on the House Floor."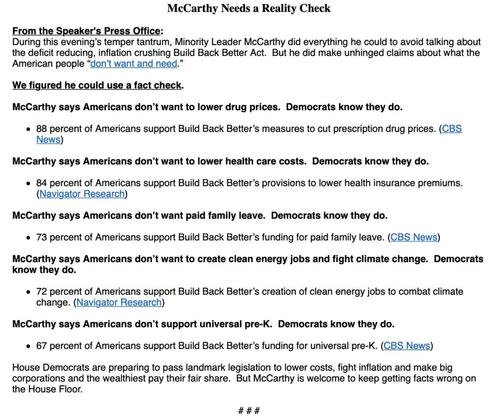 After McCarthy had gone on for a few hours, Pelosi's office released another statement asking: "Is Kevin McCarthy OK?"
"We're glad we're not the only one who can't follow Minority Leader McCarthy's meandering rant that has nothing to do with the Build Back Better Act," it said.
Pelosi is likely also upset since McCarthy's speech beat the Speaker's own previous record speech which she set in 2018 with an eight-hour speech aimed at urging Republicans to vote on immigration legislation for "dreamers."
*  *  *
Update (2000ET): The House of Representatives is set to debate and then vote on President Biden's $1.75 trillion Build Back Better Act tonight, just hours after the Congressional Budget Office found that it will add more than $350 billion to the budget deficit – a determination which contradicts the White House's longstanding claim that the bill is 'paid for.'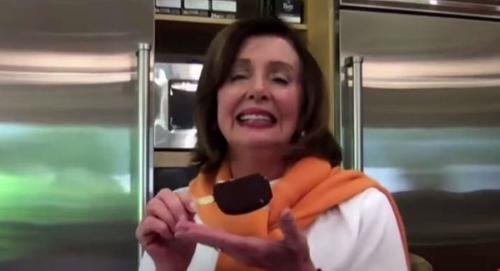 The CBO found that the draft legislation contains $1.636 trillion in spending, and $1.269 trillion in revenue over 10 years, adding $367 billion to the US deficit over that period.
House speaker Nancy Pelosi sent a letter to fellow Democrats on Thursday advising them that they would be receiving an "updated chart from the White House, reflecting the revised numbers" from the CBO, adding that a vote would take place Thursday night "so that we can pass this legislation and achieve President Biden's vision to Build Back Better!"
Of course, BBB passing the house was more or less a foregone conclusion given its broad support in the chamber. If House Republicans are united in opposition, Democrats can afford to lose three votes and still pass the bill.
The big question now is whether moderate Senate Democrats Joe Manchin (WV) and Kyrsten Sinema (AZ) will support it.  The  (more) fiscally conservative Democrats will make their decision as Republicans hammer the bill for increasing the national debt, as well as its potential to intensify inflation, hinder job growth, and increase government dependency.
A key reason the CBO finds the bill does not pay for itself involves estimates of how much increased tax collection can result from expanding the Internal Revenue Service's budget. While the White House has projected that increasing the number of enforcement agents at the Internal Revenue Service would yield $400 billion in higher revenue, the CBO does not agree. –Bloomberg
Critics also point to the fact that without sunset provisions, the bill would have actually exceeded $4 trillion, including tax credits for children and low-income workers which will be extended for one year.
And while it will likely pass the House tonight, the final bill is almost certain to be whittled down in the Senate, where Democrats are at the mercy of Manchin and Sinema, who have previously objected to how aspects of the legislation will be funded.
*  *  *
Just as the House Rules Committee cleared Biden's Build Back Better bill for debate by the full House with first votes on the bill set as early as 19:15EST (with Senator Manchin commenting earlier that he has not decided on whether to vote to proceed to the Build Back Better Bill), moments ago the CBO finally released its score of Biden's bill and, to nobody's surprise, it finds that contrary to what the Democrats asserted (and then un-asserted), that the bill would not fully pay for itself.
Instead, the CBO estimates that enacting this legislation would result in a net increase in the deficit totaling $367 billion over the 2022-2031 period, as a result of an additional $1.636 trillion in additional spending…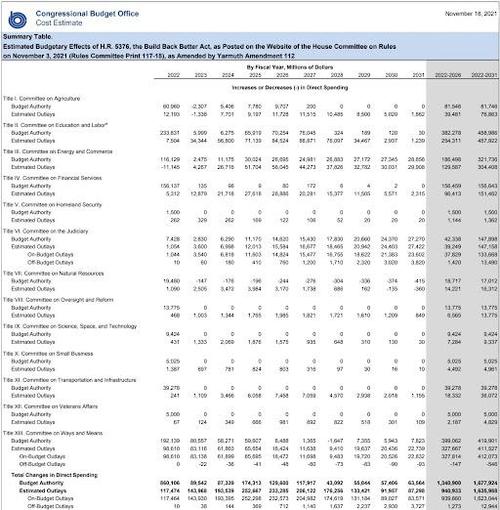 … offset by just $1.269 trillion in revenue (which however the CBO notes does not count any additional revenue that may be generated by additional funding for tax enforcement).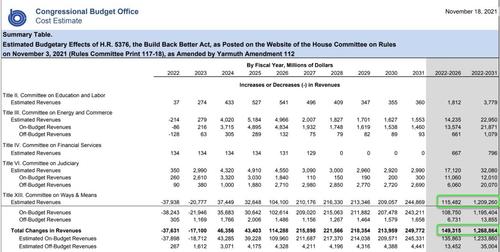 Worse, over just the next five years, the deficit grows by $792 billion, a number which somehow declines to $367 billion over the next decade, which comes as a result of a massive surge in revenues generated from Ways and Means, which magically surges from just $115BN over the next five years to a whopping $1.2 trillion over the next decade.

The massive surge in revenues from Ways and Means comes almost entirely from one section: "Responsibly Funding Our Priorities" (which conjures up an additional $1 trillion of revenues from 2026-2031, dramatically easing the 'cost' of the bill)…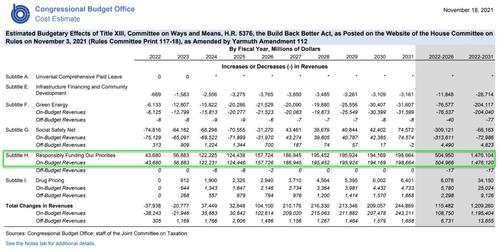 That "Responsibly Funding Our Priorities" Section can be read in full here (Spoiler Alert – that's where all the Tax Reform gotchas are).
As Mike Shedlock notes, the 10-year lie is that Progressives say the front-loaded benefits will expire. Meanwhile they pledge to do everything in their power to ensure they don't.
History shows that government entitlement programs only get bigger, they don't expire.
Nor did the CBO look at ancillary costs such as inflation.
Earlier in the week, the Biden administration began preparing lawmakers for a 'disappointing estimate,' and told them to "disregard" the assessment according to the New York Times.
Hilariously, at just the same time as the CBO revised its long-awaited score, Janet Yellen – knowing how ugly it would look when the CBO scored that the Democrats lied – issued a statement saying that "the combination of CBO's scores over the last week, the Joint Committee on Taxation estimates, and Treasury analysis, make it clear that Build Back Better is fully paid for, and in fact will reduce our nation's debt over time by generating more than $2 trillion through reforms that ask the wealthiest Americans and large corporations to pay their fair share."
The wildcard? Yellen's estimate that the IRS will recoup "at least $400 billion in additional revenue" from high-earners to plug the hole.
A particularly salient aspect of the revenue raised by the legislation is a historic investment in the IRS to crack down on high-earners who avoid paying the taxes that they owe, which Treasury estimates would generate at least $400 billion in additional revenue.
The CBO somewhat agrees with this hypothetical wildcard which can not be modeled out and instead has to be taken as faith, which is why the CBO did not account for it, but it does say that its deficit estimates do not account for the $207 billion in IRS "savings", meaning CBO's effective estimate is $160 billion in new deficits.
Of course, in the end all of this is just optics and the CBO score won't have any impact, with the Bill sure to pass the House and then it will be up to the moderate Democrats in the Senate to determine if it becomes law.
Now let's see what moderate Senate Democrats Joe Manchin and Kyrsten Sinema have to say about it.
Look for UPDATES at Zero Hedge.